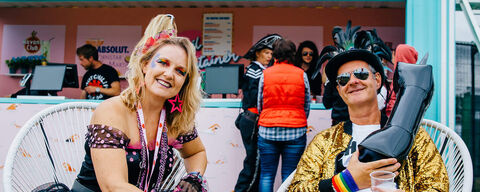 When will I receive my tickets?

Tickets will be received no later than 5 days before the event and you will be notified by Ticketmaster when they have been dispatched.
Can I bring my own tent?

Yes, you can bring your own tent as long as you purchase a weekend camping ticket, we do also have pre-erected and Boutique accommodation options if you wish to upgrade.
Will there be any Day Tickets on sale for the festival?

A limited number of Day Tickets will go on sale closer to the festival.
I have a Day Ticket. Will I be able to camp or access the campsites?

No – unfortunately Day Tickets do not provide access to any campsites. If you want to stay overnight at the event, you'll need to purchase a Weekend Camping Ticket.
Can I camp for one night?

You can camp for up to 3 nights (Fri-Sun inclusive), however, if you choose to only camp for one or two nights, you still require a full weekend camping ticket.
Can I leave the festival site and then come back in?

Yes you will be allowed to re-enter the festival site as long as you have a valid wristband on.
Can I bring a trailer tent?

No, trailer tents are not permitted.
Can I bring a gazebo?

You are permitted to bring an additional 3x3 structure per booking, however this is at our discretion and should we feel that any party is occupying a inappropriate amount of space we may ask for additional structures to be removed or relocated.
Can I use cash at the festival?

We won't be accepting any cash payments this year only debit/card and apple pay.

We have invested in a robust Wi-Fi system across the site for all operators from the minute you enter the site to all bars, concessions, merchandise, fairground rides etc
If this Wi-Fi system fails at all we can still run transactions off line. They will update as soon as the Wi-Fi is restored.
You can pay with all debit and credit cards as well as phones and other devices.
You can use apple pay etc even if you do not have phone reception.
It is proven that there is a significant reduction in campsite thefts where there is no cash at festivals.
It is proven that cashless speeds up service on bars and catering units.
Not carrying cash on site makes it safer for all the traders and public on site and makes the site less of a security threat for all concerned.
Is there a mobile phone reception?

Mobile reception is generally good but a large number of people on site could have an adverse effect on the connection. It's a good idea to pick a meeting point with your group when you first arrive. WIFI will not be available on site.
Can I charge my phone?

Yes, you will be able to purchase charging products at the event.
Are animals allowed on site?

No, we do not allow animals on site with the exception of guide dogs.
Can I park by my tent?

No, we do not permit vehicles in the campsite.
Why do you have ticket tiers?

By having ticket tiers, it enables us to change the price for loyal customers who choose to book early. These tickets are exactly the same, but better value when bought earlier.

Each tier has an allocated number of tickets, therefore once they are gone, we progress to the next tier.
Will I be searched going in to the campsite or arena?

For the safety of all of our customers and staff, we reserve the right to search all customers and staff coming to the event. This is to ensure that the event remains a safe and enjoyable place for all.

Searches are subject to your consent, however they are a condition of entry.
Why do you have booking fees?

Booking fees are added on to each ticket to cover Ticketmaster's costs to provide the ticketing service for the event you are attending, these costs will include, but are not limited to, running their website and customer service lines, platform development, staff wages and running the box office onsite at the event you will be attending.
Will there be Family Camping at Rewind Scotland?

Yes, there will be a designated area of the campsite specifically for families with children and youths. Please be aware you cannot book family camping but ask a steward onsite who will direct you to the correct area when arriving to camp.